[PREVIEW]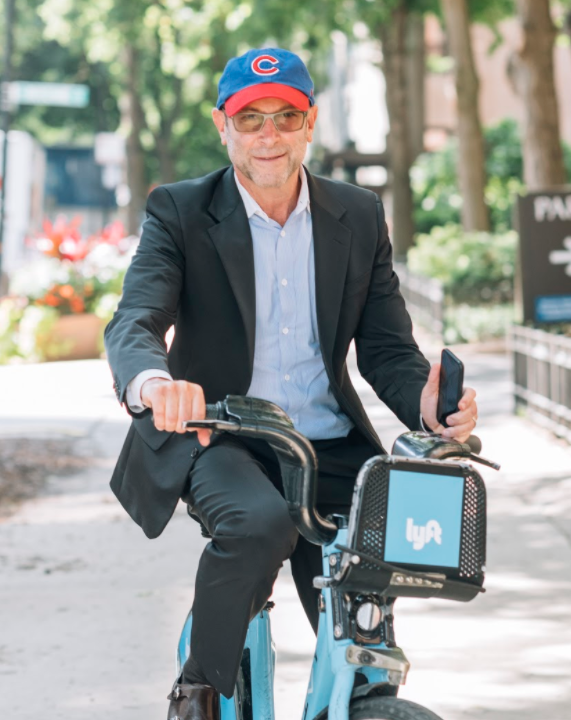 Through our lives we are known and recognized by our various relationships, habits, and accomplishments. Personally, I'm known as Yoni's husband, Max and Jack-Jack's father, brother of Deena, Jon, and Stephen.
I am a pretty good artist, a decent pianist, a lifelong Chicagoan, an attorney, and an accomplished real estate broker.
I'm known as THAT GUY who will change the table at a restaurant if it's not perfect, send back the chicken if it's not hot, and refuse to accept that "small plates are meant to be shared." I'm the impatient driver who honks to move traffic along, the political activist who demands equality and doesn't understand those who don't, and the avid traveler who until recently always flies economy. I'm the one who absolutely loves camping, provided it's at the Four Seasons.
I am the guy with the cutest dog on the block. I'm the hypochondriac, especially when it comes to my back (and my knee, and my shoulder, and my small toe, and all my other conditions).
But, more than anything, I am most proud to be Jacky Lippitz's son. Although she has been gone for over 20 years, not a day passes when someone doesn't approach me and tell me how fabulous she was, how much they admired her, how their lives were changed by her warmth, her spirit, and her generosity. Invariably, they mention how exceptionally beautiful she was, inside and out.
Man, I miss her. I hope you have a wonderful Mother's Day. Hug her tight.
Chicago Mayfest/Armitage Art Show
Chicago Mayfest kicks off the summer festival season on May 12th through 14th on Armitage at Sheffield in Lincoln Park.
Two stages will showcase Chicago's most acclaimed musicians while festival goers can enjoy food and libations. As an added bonus, the Armitage Art Show will be happening in the heart of the festival. You'll get to experience Chicago's top artists as they showcase and sell their work and feature interactive art demonstrations.
Let the kids enjoy our family carnival area while you wet your whistle with a wide variety of your favorite Summer drinks like Chicago's famous Red & White Sangria as well as Ice Cold Cocktails and Beer available at any of our three bars.
Edra Soto Show at the

Hyde Park Art Center
The solo exhibition Destination/El Destino: a decade of GRAFT at the Hyde Park Art Center concentrates on the decade-long series of artworks by Chicago-based, Puerto Rican artist, educator, and organizer Edra Soto, while speculating on the evolution of this work towards establishing more emotionally transformative and healing public spaces. Activating the indoor/outdoor feature of the main gallery, Soto builds an immersive installation of porous sculptures, documentary photographs, drawings and games that create a playful and open environment for discussing cultural hybridity.
Through the GRAFT series of sculptures, wall reliefs and installations, Edra Soto explores vernacular architecture familiar to the artist's native Puerto Rico to address the adaptability and hybridity of cultural representation.
680 N. Lake Shore Dr, #2300

2 Bed | 1.1 Bath Streeterville

3 Bed | 3.1 Bath Gold Coast

3 Bed | 2 Bath Gold Coast

5455 N. Ravenswood Ave, #2N

3 Bed | 2 Bath Andersonville

100 Prairie Park Dr, #401

500 W. Superior St, #1707

2 Bed | 2 Bath River North

1 Bed | 1 Bath Gold Coast

1 Bed | 1 Bath Gold Coast
5 Bed | 4.2 Bath Bucktown

Chicago's finest modern estate

To be offered at $7,250,000

3 Bed | 2.1 Bath East Lakeview

Enchanting country house in the city

To be offered at $1,525,000

2 Bed | 2 Bath East Lakeview

Gorgeous pre-war residence in one of

Lakeview's most prized buildings

To be offered at $449,000

1150 N. Lake Shore Dr, #4H

2 Bed | 2 Bath Gold Coast

Beautifully updated home in a full-service building in the heart of it all

To be offered at $419,000
Modern. Vintage. Architectural. Cool.
And everything in between.
Check out previous "Into the Weekends" here.
© Compass 2023 ¦ All Rights Reserved by Compass ¦ Made in NYC
Compass Real Estate is a Licensed Real Estate Broker with a principal office in New York, NY and abides by all applicable equal housing opportunity laws. All material presented herein is intended for informational purposes only, is compiled from sources deemed reliable but is subject to errors, omissions, and changes without notice. All measurements and square footages are approximate. This is not intended to solicit property already listed. Nothing herein shall be construed as legal, accounting or other professional advice outside the realm of real estate brokerage. Photos may be virtually staged or digitally enhanced and may not reflect actual property conditions.