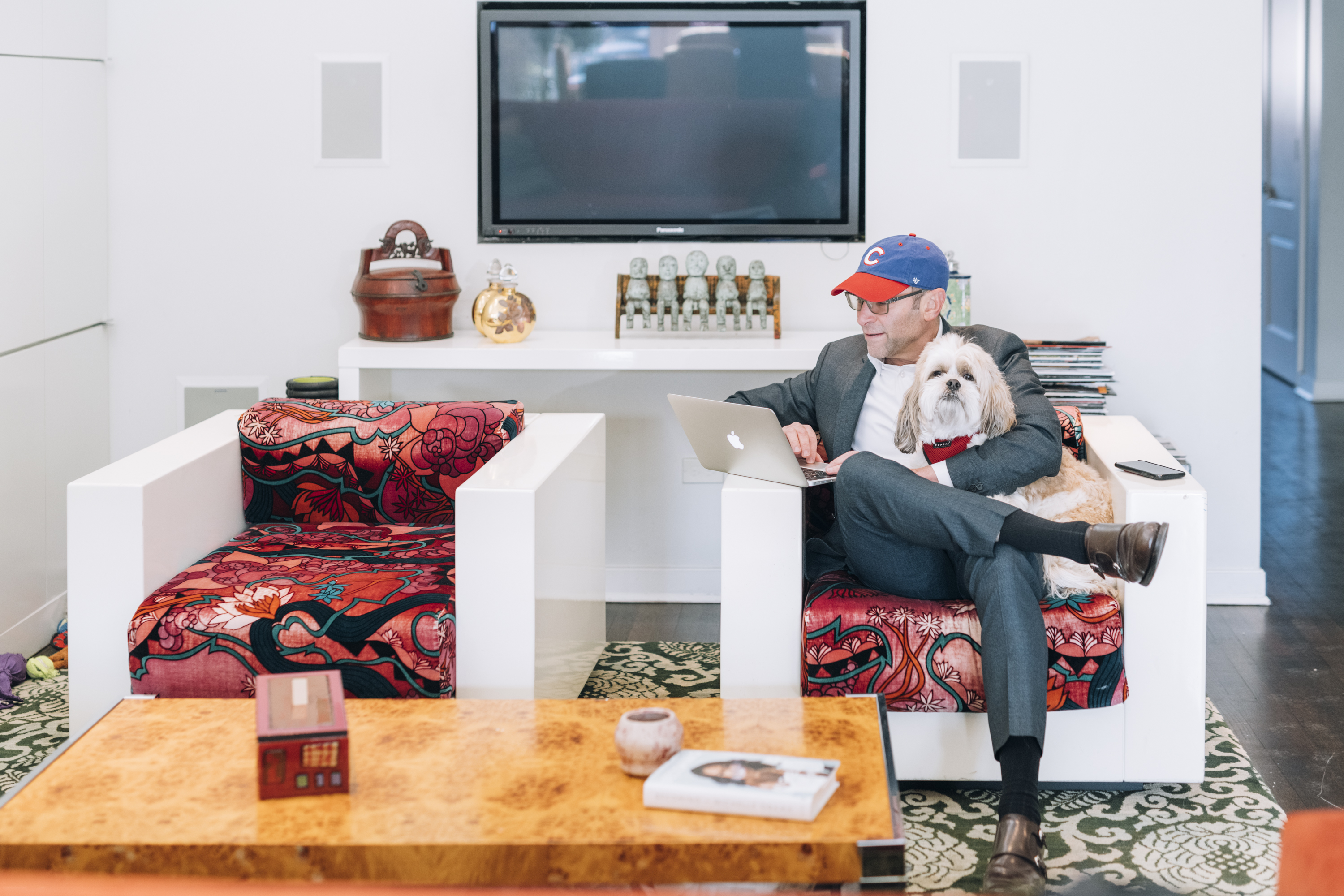 After a couple of wild weeks, I think it's appropriate to fess up on something. A few years ago my back went out. Confined to my bed and unable to move, my doctor prescribed Vicodin to deal with the unbearable pain. More than a bit loopy on my laptop, I clicked "buy now" on an online impulse purchase: these totally cool (dare I say psychedelic?) chairs, above. And you know what? I've never regretted my Vicodin purchase for a moment! Every morning Astro joins me for my morning coffee in them (usually he takes one, I the other). They are cozy, stylish, and plain fun.
And here's the point: right now there are AMAZING opportunities in Chicago real estate. With interest rates remaining at record lows and many motivated sellers hungry for a deal, NOW is the time to buy. With a COVID-19 vaccine and treatment on the horizon in 2021, savvy buyers should be on the prowl. Right now. But, don't buy anything on Vicodin. Look to me and my team to guide you through the process, analyze the comparables, trends, and where the best opportunities are.
Best, Brad
If you haven't checked this out yet, you need to! The entire façade of the Merchandise Mart is used as a projection screen for incredible original kinetic art. In partnership with Chicago's Department of Cultural Affairs and Special Events,
Art on the MART
will resume projections tonight with an all-new program that can be viewed virtually at 7:00 pm. The 30-minute program of projections will be shown nightly at 7:00 and 7:30 p.m., and can be viewed for free from the jetty section of the Chicago Riverwalk or on Wacker Drive between Wells Street and Franklin Street. In accordance with Chicago's Phase Four pandemic guidelines, no more than 100 people can be on the Riverwalk jetty and all must comply with social distancing regulations. All visitors must wear face coverings. If you'd rather watch from the comfort and safety of your couch, you can
livestream it here
.
Check out the Chicago Botanic Garden's Lightscape
Outside, Winter Nights are Brighter! Check out the holiday event that sold out in its debut season. Enter a captivating world of light, color, and sound in an all-new trail designed with your safety in mind. Bask in the glow of thousands of twinkling lights in favorites like the Cathedral of Light and new delights you've never seen before.
4 Bed | 3.1 Bath Lakewood/Balmoral

6 Bed | 4.2 Bath Lincoln Square

2 Bed | 2 Bath Streeterville

4 Bed | 3.1 Bath East Lakeview

1240 N. Lake Shore Dr, #32A

4 Bed | 3.1 Bath Gold Coast

3 Bed | 2.1 Bath Gold Coast

4 Bed | 3 Bath East Lakeview

858 W. Diversey Pkwy, #1W

2 Bed | 2 Bath East Lakeview

3800 N. Lake Shore Dr, #6E

3 Bed | 2 Bath East Lakeview

3 Bed | 2.1 Bath Lakeview
Modern. Vintage. Architectural. Cool.
And everything in between.
© Compass 2021 ¦ All Rights Reserved by Compass ¦ Made in NYC
Compass Real Estate is a Licensed Real Estate Broker with a principal office in New York, NY and abides by all applicable equal housing opportunity laws. All material presented herein is intended for informational purposes only, is compiled from sources deemed reliable but is subject to errors, omissions, and changes without notice. All measurements and square footages are approximate. This is not intended to solicit property already listed. Nothing herein shall be construed as legal, accounting or other professional advice outside the realm of real estate brokerage.