[PREVIEW]
Growing up in a strict household with a plethora of rules, I always envied the lucky kids who could basically live life with abandon: stay up late, watch more than an hour of TV a day, had a TV in their bedroom (some with color), eat as much candy as they wanted, watch R-rated movies, watch PG-13 movies, read comics, skip Hebrew School, watch even PG movies, grow their hair out (at least past the top of their ears), spend all their allowance at the pinball arcade, and leave the gardening, snow shoveling, car oil changing, gutter-cleaning, and all-around-house maintenance to the absolutely wonderful and capable paid professionals their parents were willing to hire.
We don't get to choose our families, but as a grown-up you can decide which building to move into - and, with that simple act, which rules and restrictions by which you have to abide. That's why it's important to understand the building's restrictions and rules BEFORE the contract is finalized - during the attorney approval/due diligence period. Can you have a dog? A cat? A lama? Can you rent out your place? Is there a limit to how many rentals the building will allow? Can you grill on the balcony? Is smoking allowed? What's the process for approving renovation plans? Can you play bad country music? Can you play bad country music even quietly?
When you buy a condo, you obligate yourself to take title subject to restrictions of record and any rules the association has implemented. The good thing is that you can probably watch as much TV as you want. And PG-13 movies too.
And happy day-after-mugshot day!
Bristol Renaissance Faire!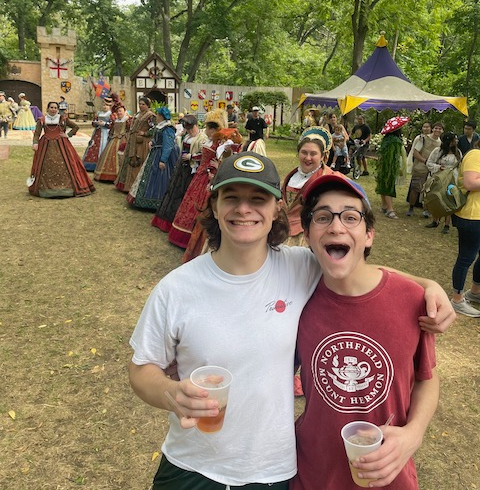 Wanna party likes it's 1599? Head just north of the border in Wisconsin to the Bristol Renaissance Faire
to a time when knights were noble, maids were merry and turkey legs were massive. Once you enter the portal gates, you travel back in time into an exciting village festival day. And what to celebrate? Queen Elizabeth, Herself, is visiting Bristol! It's time to eat, drink and be merry and revelry is the order of the day!
The Faire, which meets only through Labor Day, boasts a beautiful 30-acre site with open-air stages featuring sword fighters, minstrels and jesters. Meet Robin Hood or Queen Elizabeth, in person!
Some 200 artisans display their wares in the Bristol Faire Marketplace with potters, glass blowers, jewelers and forgers busily going about their work. Offerings range from sterling silver jewelry, hand-thrown pottery and fine crafted leather works to hickory walking sticks, rich tapestries to hammered pewter. Pro tip: be sure to dress in costume of your choice (Renaissance relevancy not required - so be your inner furry or Star Trek character!) and go to Menards to buy your tickets and save $6.90/each.
Sunday in the Park with Lyric
5 Bed | 4.2 Bath Bucktown

5 Bed | 4.1 Bath East Lakeview

Now offered at $2,999,000

6 Bed | 4.1 Bath Northfield

680 N. Lake Shore Dr, #2300

2 Bed | 1.1 Bath Near North Side

1301 N. Dearborn St, #309

2 Bed | 2.1 Bath Gold Coast

1212 N. LaSalle St, #1201

2 Bed | 2 Bath Near North Side

3430 N. Lake Shore Dr, #14P

2 Bed | 2 Bath East Lakeview

3 Bed | 2 Bath Rogers Park
4 Bed | 3.1 Bath Lincoln Park

Absolutely charming renovated vintage treasure.

To be offered at $1,799,000

4 Bed | 2.1 Bath Lakewood/Balmoral

Rarely available stunning renovation on fab bock.

To be offered at $1,650,000

Pristine newer construction home.

To be offered at $1,625,000

3 Bed | 2.1 Bath East Lakeview

Mid-century modern masterpiece.

To be offered at $819,000
Check out our

"Why Brad Lippitz Group?"
Modern. Vintage. Architectural. Cool.
And everything in between.
Check out previous "Into the Weekends" here.
© Compass 2023 ¦ All Rights Reserved by Compass ¦ Made in NYC
Compass Real Estate is a Licensed Real Estate Broker with a principal office in New York, NY and abides by all applicable equal housing opportunity laws. All material presented herein is intended for informational purposes only, is compiled from sources deemed reliable but is subject to errors, omissions, and changes without notice. All measurements and square footages are approximate. This is not intended to solicit property already listed. Nothing herein shall be construed as legal, accounting or other professional advice outside the realm of real estate brokerage. Photos may be virtually staged or digitally enhanced and may not reflect actual property conditions.