[PREVIEW]
Whether you observe or not, whether you pray or not, whether your prayers are answered or not if you pray, whether your answered prayers are the result of praying, whether you never have your prayers answered, whether you believe in observing even if you don't pray, whether you observe in your own special way or in no way at all, whether you observe strictly or as a free spirit, whether you are religious or not religious in the least, whether you with stick with it or run away as fast as you can, and whether you believe a lot, a little, or nothing at all, whether you believe in UFOs or in the Loch Ness monster….I wish you and those you love a year filled with sweetness, health, good times, and even a few Reese's Peanut Butter Cup blizzards at DQ along the way.
L'Shanah Tova, Happy New Year!
Mexican Independence Day Parade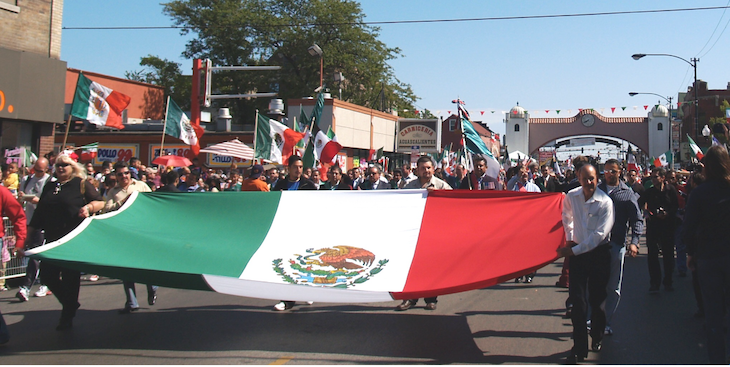 Head to Little Village tomorrow for the 2023 26th Street Mexican Independence Day Parade. The annual parade will kick-off at noon on Mexican Independence Day, Saturday, September 16 (the first time the parade is on the actual date of Mexican Independence Day!).
The parade's theme "Tu Mexico, Tu Chicago" will focus on Mexican identity and culture. Parade participants and floats will represent the different states in Mexico, showcasing the many Mexican traditions and culture that reside not just in Little Village but all over the city of Chicago and beyond.
The parade will continue its tradition by kicking-off from the historic Little Village Arch located on 26th street and Albany Avenue and proceed down 26th street to Kostner Avenue. The parade is considered one of the largest parades in the Midwest and brings together over 400,000 participants, residents, and visitors along the two-and half-mile business corridor. The parade features brightly colored floats, mariachi bands, and folkloric dancing and is attended and enjoyed by residents, elected officials, community leaders, local businesses, entertainers, artisans and artists.
Get ready, punk rockers! Riot Fest is returning to Douglass Park this weekend with a laundry list of rock, punk and emo artists. It's one of the biggest music fests in Chicago every year thanks to a must-see lineup of both legacy acts and emerging newcomers. This year's headliners include the Foo Fighters, The Postal Service and The Cure.
5 Bed | 4.2 Bath Bucktown

5 Bed | 4.1 Bath East Lakeview

5 Bed | 3 Bath Gold Coast

3 Bed | 3.1 Bath Gold Coast

4 Bed | 2.1 Bath East Lakeview

1150 N. Lake Shore Dr, #4H

2 Bed | 2 Bath Gold Coast
4 Bed | 3.1 Bath Lincoln Park

Absolutely charming renovated vintage treasure.

To be offered at $1,799,000

Pristine newer construction home.

To be offered at $1,625,000

4 Bed | 4.1 Bath Gold Coast

Row house in historic neighborhood with massive potential.

To be offered at $1,385,000

4 Bed | 3 Bath Margate Park

Spectacular vintage with enormous private terrace & 2 car parking.

To be offered at $875,000

4 Bed | 2.1 Bath East Lakeview

To be offered at $819,000

3 Bed | 2 Bath East Lakeview

To be offered at $625,000
Check out our

"Why Brad Lippitz Group?"
Modern. Vintage. Architectural. Cool.
And everything in between.
Check out previous "Into the Weekends" here.
© Compass 2023 ¦ All Rights Reserved by Compass ¦ Made in NYC
Compass Real Estate is a Licensed Real Estate Broker with a principal office in New York, NY and abides by all applicable equal housing opportunity laws. All material presented herein is intended for informational purposes only, is compiled from sources deemed reliable but is subject to errors, omissions, and changes without notice. All measurements and square footages are approximate. This is not intended to solicit property already listed. Nothing herein shall be construed as legal, accounting or other professional advice outside the realm of real estate brokerage. Photos may be virtually staged or digitally enhanced and may not reflect actual property conditions.